Denver Economy & Business
Colorado has been quickly expanding and evolving, with the 4th highest GDP growth in the nation in 2015. The unemployment rate in Colorado was at only 3.6% in September of 2016, an indicator of a "talent shortage in the state," and a plethora of job opportunities available for those potentially interested in relocating. In 2017 alone, Colorado added 63,400 jobs, which equates to 2.4% growth.
New businesses formations are vital to job and economic growth, and Colorado has seen continued growth in this category— in fact, Colorado's startup rate is one of the highest in the Nation. Denver has become a haven for tech companies and can attribute much of this sustained growth on the patronage of these startups. This can be explained by Denver's entrepreneurial spirit and culture, favorable age demographics, and the risk-taking population instrumental in supporting these growing industries. According to University of Colorado's 2017 Colorado Business Economic Outlook, "strong population and job growth further strengthened market fundamentals in 2016 across major property markets in metro Denver to record levels in some case."
Major Industries & Employers in the Metro Denver Area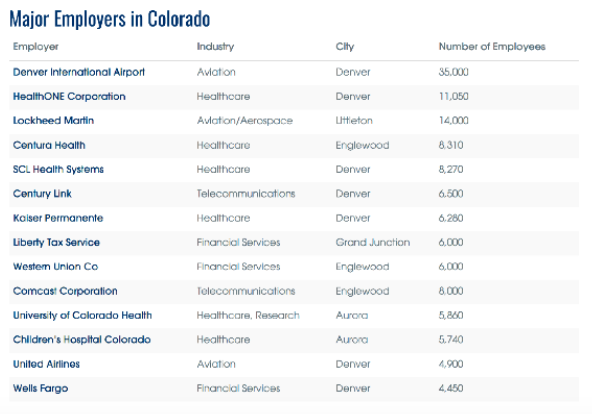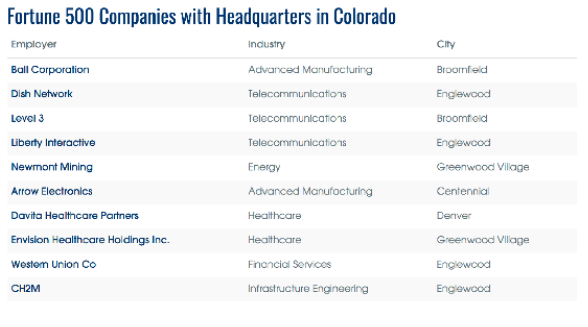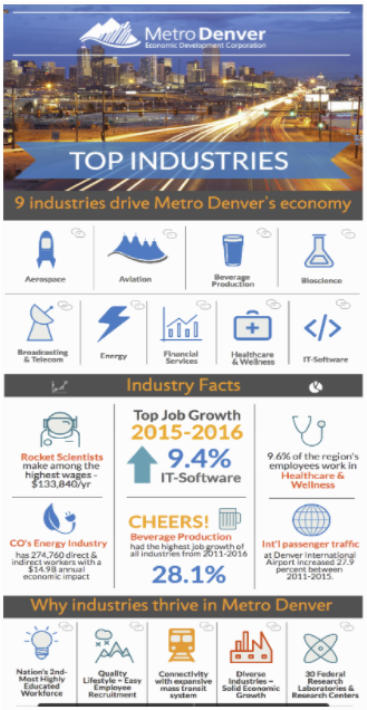 On the whole, Real Estate in Denver is expected to remain healthy and vibrant. This can be attributed to several factors, including robust price appreciation, a diverse and growing economic base, solid income growth, and one of the best work/life balances in the nation— a luxury provided by the 200+ days of sunshine per year, and the allure of city life infused with gorgeous mountain town living.
1)www.metrodenver.org/research-reports/economic-forecasts/
2) www.metrodenver.org/news/rankings
3) www.coloradob2bcfo.com/denver-elevates-to-top-of-small-business-rankings/
4)/www.denverpost.com/business/ci_26123500/colorado-economy-growing-faster-than-predicted-2014
5)https://www.colorado.edu/business/sites/default/files/attached-files/2017_beof_book_final_reduced.pdf